The Social Media Best Practices You Need This Year
The new year presents a new opportunity to start fresh. If you're anything like us you've made ambitious resolutions to better yourself, however, we're going to focus on ways to you can improve your social media presence. Specifically, we are looking at social media best practices that need to be considered in 2017. Social media is an ever-changing, fast-paced and competitive space, so we've listed a few things to work on to get the most out of your efforts.
Focus on the Platforms that Make Sense for You
Just because Nike is on Facebook, Twitter, Instagram, Pinterest, YouTube, Snapchat, Periscope and every other social media platform under the sun, doesn't mean that you need to be too. Figure out which platforms are working well for you, then focus on doing the best job you can. Sure, in an ideal world you would have top notch presence across the board, however, that's not always how it works. Each platform serves itself better to certain types of content. For example, food and fashion related content may perform really well on Pinterest and Instagram but fall flat on Twitter. Likewise, news focused content will probably perform better on Facebook and Twitter than it would on Instagram or Pinterest. Don't spread yourself too thin. Find what is working and do it really, really well. There's likely going to be more benefit in having one extremely engaged audience, than a bunch of fragmented, disconnected audiences.
Be Visual
Each year we hear about the growing importance of creating content that stands out in a user's social media feed. Having visuals (images, GIFs, videos, infographics, etc.) be a part of posts has become a necessity if you want a chance at getting noticed. Video has emerged as the fastest growing and perhaps the most effective visual aid for social media, however, engaging photos will always be an effective tool. The graph below from Buzzsumo illustrates that Facebook posts with images average 2.3 times more engagement than those without images. Investing in high-quality photos and videos that serve well as social media content is an investment you must be willing to make in 2017.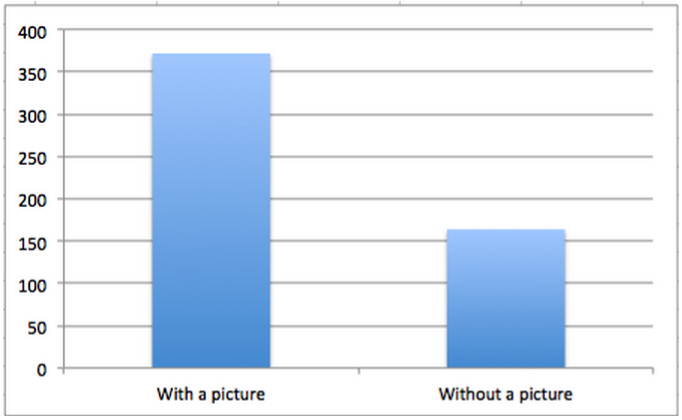 Source: http://buzzsumo.com/blog/how-to-massively-boost-your-blog-traffic-with-these-5-awesome-image-stats
Keep it Simple
Among all the chatter it may be tempting to write more in-depth and thorough posts. DON'T GIVE IN. People have incredibly short attention spans. According to a 2015 study,  the average attention span was about 8.25 second. Also, it has been well documented that on average shorter posts perform much better than those with longer character counts. And when we say shorter, we mean way shorter. A study from Buffer found that "Tweets shorter than 100 characters have a 17% higher engagement rate" and "Facebook posts with 40 characters receive 86% more engagement than posts with a higher character count."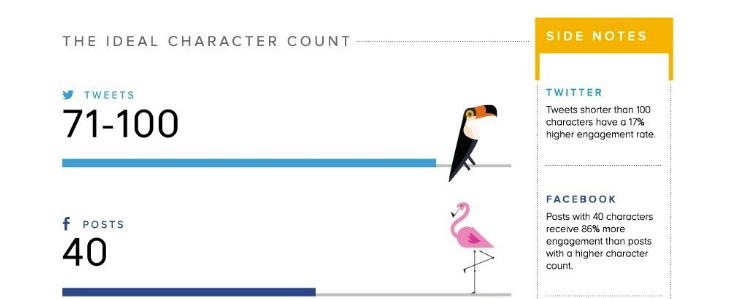 Source: https://blog.bufferapp.com/optimal-length-social-media
Pay to Play is Here to Stay, Have a Plan
Whether you like it or not, ads and promoted content have become an incredibly important part of social media. It is up to us social media managers to have a plan that effectively leverages the paid side of social media. With continued trends of decreasing reach for organic content, don't feel the need to continuously pump money into promoting your posts. It's true that more money spent will equal more visibility, however, you can (and should) be more strategic about it than that. The types of content you're promoting, targeting of your ads, results tracking methods, and reporting systems are things that need to be focused on if you choose to invest in advertising. We've discussed previously how Facebook advertising can be a powerful tool.
Find Your Voice
One of the most important things to consider when putting together social media content is developing a tone and voice that resonates with your audience. Finding the right balance of professional, but fun and engaging is no easy task. Reviewing the copy included with your most successful posts is probably the easiest way to go about this. Once you have an established voice, be consistent and use it regularly.

It's a little too late for a New Years resolution (and you probably don't need another one anyway), however, a small effort to work on these items in 2017 should help the returns on your social media efforts.