Social Media Marketing Tips
The world of social media can be a bit overwhelming. There's a lot going on with each platform and it can be tough deciding what to focus your efforts on. Whether you are just getting your social media presence started or you have been working on it for a while, there are certain things that can be done to make sure you're getting the most out of your efforts. We've listed the 10 tips that you should know if you're doing social media marketing.

1. Have a plan before you begin
Will you be utilizing all social media platforms? What will your posting schedule look like? Will you have a budget set aside for advertising? Make sure to set strategies before you begin.

2. Monitor and respond actively
Social media was created to be social. Be sure you're communicating and responding to your audience. Thank new followers, reply to comments, respond to positive and negative feedback (everything is public so a good response to a negative comment can make or break a customer's view of the brand). Avoid just posting content and not interacting with your community. Conversation is key to building relationships, and relationships turn into customers.

3. Schedule posts and tweets to save time and optimize
Scheduling your content can save you a ton of time and make your job easier. Scheduling content delivery throughout the day, rather than just posting when you have time, can help you reach more of your audience at optimal times. Releasing all of your content at one time reduces the amount of potential reach. Buffer or Hootsuite are both tools that offer the ability to schedule posts, and now Facebook even has it built into Newsfeed.

4. Use images or videos in your posts
Research has shown that using images in your posts significantly increases average engagement and interaction. There's a reason why a visually driven platform like Instagram has become a very popular. The saying "A picture is worth a thousand words" has never been truer, and using great imagery in your posts will exponentially boost your engagement.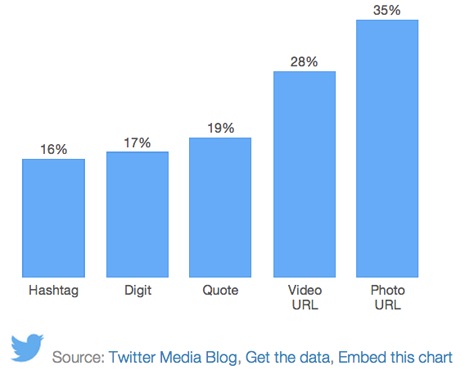 5. Be an early adopter
If you stay up to speed on up and coming social platforms, you can use this to your advantage by becoming an early adopter. Platforms like Snapchat and Pinterest have become viable marketing platforms, and creating a presence on emerging social media sites early on can be hugely beneficial. Some of the early adopters with business pages on Facebook were able to reap the benefits of 50%+ organic reach and less competition on ad bidding. Platforms are changing rapidly, and new ones are popping up regularly, so be sure you're there to ride the wave.
6. Create (good) content that's your own
In any social strategy, you should find a good balance between posting your own content and sharing others. It's important to leverage other users' content and build relationship equity, but be sure you have some of your own content to bring to the table. Creating and sharing original content builds authority before you ask prospective customers to opt in or make a purchase later. Hitting them with a sales pitch first is basically just cold calling, and we all know how successful that is. By "pixeling" your readers, you can then hit them with an ad that is super relevant and you know they're already interested in a specific topic or product (in case you were wondering, yes you've been pixeled). Tip: You can use a tool like Buzzsumo.com for inspiration and data showing what topics are trending in your industry or for your competitors.
7. Analyze and adjust
Make sure the time you put into your social media marketing is providing results. Understanding what your social analytics are telling you is vital to improving your social strategy moving forward. Specifically with ads, be sure to test multiple images, different sets of copy, and a variety of audiences depending on size. Sometimes what you think will work isn't necessarily the case; your data will tell you what's actually working. If you find a specific post or an ad is doing better than another, act quickly to put more attention or money towards the high-performers.
8. Use URL shorteners to save on length and help with tracking
There are tools available like Google URL Shortener and Bit.ly that take your really long and ugly URL's and condense them down. Depending on what tool you use to shorten your links, they may offer extra analytics to help you gauge performance.

9. Don't become a salesman
The purpose of social media platforms is not to sell, so don't treat them that way. There is a time and place to sell, but that shouldn't be your focus out of the gate. Be sure to foster any build relationships, share and provide information or value for free. When they need your service, they'll know where to look. Even better, hit them with an ad when they're ready.
10. Pay to play
While some social channels still offer great organic reach, as platforms begin to grow, social media advertising should be in your budget. You don't need a large budget either. Moz's article on spending $1 on Facebook per day provides great analysis on how marketing in the 21st century has changed. Facebook and Twitter both offer great advertising platforms, and with the right targeting and strategy, you can create some powerful ads. We've previously discussed the reasons you should be advertising on Facebook. Other channels like Pinterest and Instagram have rolled out paid advertising. TV, radio, and print aren't free; your social media strategy shouldn't be either.

These tips should help you develop your very own social media strategy. Leave us a Facebook comment or shoot us a tweet @three29media if there is anything else that has helped your business grow on social platforms. If you would like help getting a new social media strategy in place contact me at ttassinari@three29.com.